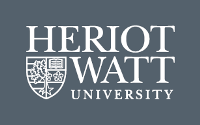 With a history dating back to 1821, we have a long and rich tradition of excellence and a proven track record of educating, inspiring and challenging the professionals of tomorrow.
Origins of our name The University's name commemorates George Heriot, the 16th century philanthropist and financier to King James, and James Watt, the great 18th century inventor and engineer: two successful, leading edge professionals of their time, whose skills and attitudes are still reflected in the ethos of the University today.
Our history began in 1821 when the School of Arts of Edinburgh was established, the world's first Mechanics Institute, which revolutionised access to education in science and technology for ordinary people. In 1852, the name changed to the Watt Institution & School of Arts, and again in 1855, to Heriot-Watt College. We finally became Heriot-Watt University in 1966 by Royal Charter. Practical education from the beginning Heriot-Watt's heritage is rooted in the provision of education for working people and professionals. When the School of Arts was established in 1821 its purpose was to "address societal needs by incorporating fundamental scientific thinking and research into engineering solutions". The School also demonstrated the pioneering tradition that underpins the University today, when it welcomed women in 1869, 20 years ahead of other institutions.
A focus on the practical application of knowledge and learning for the betterment of society is an essential characteristic of Heriot-Watt University. Throughout the early and mid 1900s the academic curriculum of the college developed with a strong emphasis on the needs of industry. A snapshot of this includes: the Department of Mining established in 1913 due to demand from the coal industry programmes in Physical Chemistry, Fuel Science, Metallurgy and Intermediates introduced in 1919 the Department of Building established in 1934 to provide tuition up to Associateship standard Brewing given departmental status in 1950 and the introduction of classes in Management Studies a new Associateship programme in Civil Engineering introduced in 1953. Responding to the needs of business and industry continues to define Heriot-Watt's approach and we work in partnership with the professions to develop our degrees in accordance with their needs.
Heriot Watt is ranked amongst the top British Universities:
Named Scottish University of the Year for 2 consecutive years!
Ranked 9th in the UK (Sunday Times)
UK University of the Year for student experience (Sunday Times)
Ranked in the top 5% of universities in the world by the QS World University Rankings.